Artwork for Your Business
Kathryn Callaghan Fine Art is proud to have supplied artwork to some of Ireland's leading brands across the hospitality, healthcare, corporate, retail and residential sectors.
From original bespoke paintings to premium prints, Kathryn Callaghan Fine Art will help you transform your space, product or event with exciting, accessible and beautiful artwork. Kathryn's award-winning and distinctive freestyle pouring method creates a synergy of energy, life and beauty in every piece of artwork and has the versatility to capture everything from landscapes and wildlife to bespoke commissions marking milestones and memories.
Our Process
The journey is different and unique for each business we work with, but to give you an idea of how we work, we use a four-step process.
Step 1 - Consultation
We usually begin with an onsite consultation to get a feel for how we can add value to your project.
Step 2 - Proposal
We will then supply a proposal with costings for discussion and your approval.
Step 3 - Supply
We are exceptionally good at working to tight deadlines and will ensure the supply of your artwork on time.
Step 4 - Framing & Delivery
We can offer a complete framing and delivery service and a choice of wall fixings and glazing.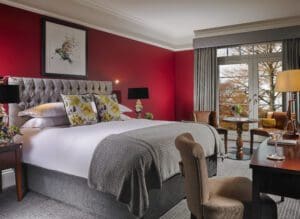 Hospitality
…Her (Kathryn) work is exceptional, with great attention to detail and a timeless feel to it…
Read More »
Enquire
Please get in touch if you have any questions about Kathryn's art, or would like to discuss a commissioned piece or commercial project. We are here to help and would love to hear from you!
Email:
hello @ kathryncallaghan.co.uk
Tel:
Studio mobile +44 (0)75 5522 8625
Studio address:
Old School House Studio
1 Tullynakill Road
Ballydrain
Comber
County Down
BT23 6EJ
Northern Ireland
Studio hours are Monday-Friday 11am-4pm.
Please note that the studio is currently open by appointment only, except for exhibitions and open days, which are announced on social media.